Travelling to Cyprus
Download maps of Cyprus towns:
Nicosia | Limassol | Larnaca | Paphos | Famagusta
Cyprus, tucked away in the top right hand corner of the Mediterranean and at the South-Eastern corner of Europe, is located between Europe, Asia and Africa and rightly claims to be a stepping stone to three continents (33Β° east of Greenwich and 35Β° north of the Equator). Cyprus is the third largest island in the Mediterranean and has been an independent country since 1960 and a member of the European Union since 1st May 2004.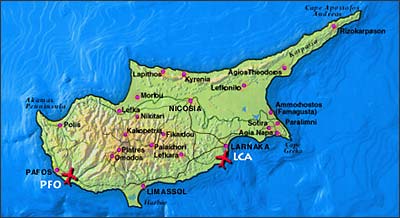 The two international airports and the corresponding codes
(Larnaca in the east and Paphos in the west)
Official Webpage of the two airports in Cyprus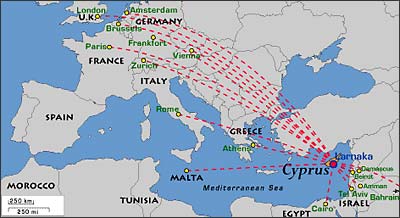 Some of the European and Middle Eastern cities from which
Airlines are flying directly to the island.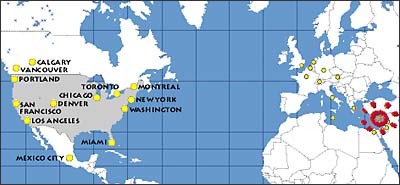 The location of Cyprus
The hotels in Limassol are approx. 35-45 minutes drive from Larnaca International Airport and approx. 40 minutes from Paphos International Airport.
BUS TRANSFER FROM THE AIRPORTS TO THE DIFFERENT CITIES IN CYPRUS

There is a possibility to take advantage of the bus transfer service available by private companies just outside of the two airports (Larnaca and Paphos). This service is offered everyday mostly between 05:00am – 24:00 (mid night) and current costs run at approximately max. 9 Euro (one way). For more information:
You can download the official application of Ministry of Transport, Communications and Works for buses from play store or apple store either from the links or the QR code appearing below in there respective order.
USEFUL LINKS